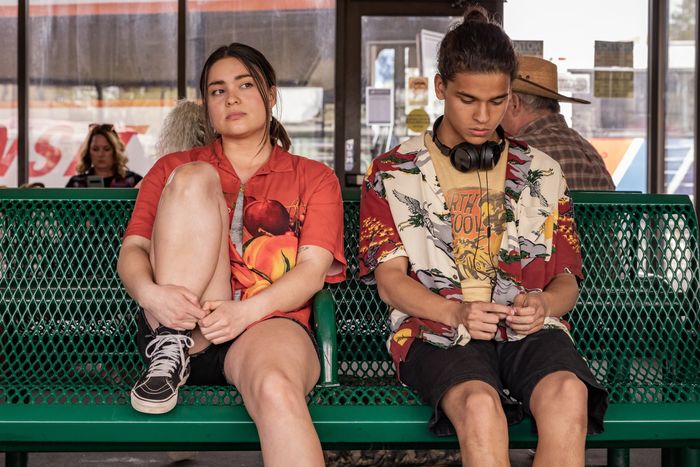 Photo: Copyright 2023, FX Networks. All rights reserved.
Early in Reservation Dogs' first season, music supervisor Tiffany Anders knew her partnership with series co-creator and showrunner Sterlin Harjo would be fruitful when he made a single request: "All of the music had to have a DIY quality to it," she remembers. "That was the moment I knew he and I were on the same page." Their search for songs that provided the feeling of "honesty and integrity and being rough around the edges" made collaborating easy; Anders and Harjo drew on her near-encyclopedic knowledge of 20th-century country and roots music and his love of contemporary indie acts to craft a soundtrack that reflected the series' thematic and tonal multitudes. Whether twangy and fierce, hushed and melancholy, or catchy and celebratory, the songs reflect each character's journey as much as the show's dialogue.
Pairing classic sounds with contemporary ones created a rich layer of texture for the show, yielding some exceptionally eclectic playlists — including iconic Indigenous artists like Buffy Sainte-Marie and Jesse Ed Davis, the whispered shoegaze heartbreak of Black Belt Eagle Scout and Samantha Crain, and the latest single from the last titans of the British Invasion. As the series comes to a close, Anders shares her insights with good old-fashioned senior superlatives for her favorite Rez Dogs needle drops.
"Stadium Pow Wow" by Halluci Nation (Episode 101, "F*ckin' Rez Dogs")
The Scene: The four Reservation Dogs stand their ground in Okern rather than let their rival clique, the NDN Mafia, run them out of town. Meanwhile, Lighthorseman Big investigates the inexplicable appearance of catfish in a field.
The Song: Anders gives all the credit for this booming, literally foot-stomping selection to Harjo. "It just feels so cool as the Rez Dogs are walking down the street in their suits," she explains. "It's got both the Native vibe, and an empowering one, and the use of it is funny to me in hindsight; Sterlin didn't want to use traditional Native-sounding music in the show." The song harnesses chants, traditional percussion instruments, drum machines, and a gritty synth riff to yield a massive sound that works much like a Maori haka: a psych-up song for the home team and a psych-out song for the visitors. Undeniable and stadium-ready, it's an elder of (and superior to) Taylor Swift's "…Ready For It?" Perhaps its use in a recent trailer for Killers of the Flower Moon will give it the ubiquity this song deserves.
"If It's Monday Morning" by Lee Hazlewood (Episode 102, "NDN Clinic")
The Scene: Cheese — whose eyes, like those of the song's protagonist, are a little blurred — wheels elder Irene out of the clinic to see the sunset, while "everything doctor" Dr. Kang enjoys some surreptitious Flaming Flamers and a cigarette out back.
The Song: Another episode closer, this tender, lesser-known gem by Tulsa native Hazlewood is one of Anders's favorite song-to-scene matches across Rez Dogs' run. Hazlewood's authoritative baritone with a bit of reverb over a spare guitar arrangement offers a sly contrast with the tentative uncertainty of lyrics like, "I could be doing fine / If I could get you off my mind … God, if you won't help me, then help me help me / Because I'm not exactly sure where I'm going." The narrator's candid bewilderment is "so heartfelt and touching while also being very funny," she says, capturing the true spirit of Reservation Dogs.
"Soft Stud" by Black Belt Eagle Scout (Episode 201, "The Curse")
The Scene: As season two opens, Willie Jack talks to a framed photo of Daniel in her kitchen, catching him up on the oddities and troubles everyone else is facing, culminating in her confession that she fears she's the cause of the titular curse.
The Song: Anders and Harjo struggled with a song selection for the second season's opening scene, which needed to convey desperation and resignation in equal measure. After rejecting classic garage rock songs like "You're Gonna Miss Me" by the 13 Floor Elevators ("too on the nose"), they were "totally blown away" by Black Belt Eagle Scout's woozy guitars and ethereal vocals. "'Soft Stud' set something in motion for us to include more current, cool, low-fi Native American artists," she explains. "It really set the tone for a lot of that season." Although the lyrics seem to be processing a breakup, the desperate longing for someone the narrator has lost forever is transposed seamlessly from romantic heartbreak to the Rez Dogs' grief and survivor's guilt.
"Cripple Creek" by Buffy Sainte-Marie (Episode 202, "Run")
The Scene: Jackie and Elora flee in terror from the armed men whose car they just tried to steal.
The Song: An unexpected use for this twangy, joyfully horny song about being reunited with a lover whose kiss is "sweet as any wine" and who "wrap[s] herself around me like a sweet potato vine." Anders and Harjo "knew we wanted to use that song, but didn't expect to love it over this scene. It adds to the sinisterness of it all — it's almost like 'Dueling Banjos' in Deliverance." The juxtaposition of Sainte-Marie's mouth bow (as she demonstrates in this vintage Sesame Street clip) over the visuals of Elora and Jackie running flat-out through a bunch of hay bales is chillingly disorienting.
"I Love You" by Spacemen 3 (Episode 203, "Roofing")
The Scene: "I Love You" appears throughout the episode, first popping up in the opening scene where Bear is nervously preparing for his first day working as a roofer.
The Song: Spacemen 3's woozy confessional love song is one of the more unexpected song-to-episode matches. "Choosing a song by a British druggie underground band from the '90s is the weirdest pairing of a band with this show!" she says. "I Love You" pops up in the opening, middle, and closing scenes of "Roofing," its loping bass line and fuzzy guitars functioning almost as the score in a transitional episode for Bear. Hammering asphalt shingles into new construction on a cul-de-sac alongside Cheese's Uncle Charlie and Daniel's father could be the start of a life as repetitious as the song's merry-go-round melody. Thanks to a sincere heart-to-heart conversation with Danny, though, the hazy riffs seem meditative by the episode's closing scene. Bear is closer to finding his own way. "The way it was used throughout that episode, the vibe it creates — it couldn't be further from our world, but it works."
"Funnel of Love" by Wanda Jackson (Episode 205, "Wide Net")
The Scene: Rita, Bev, Teenie, and Natalie cut loose at the annual IHS conference, striding down the hallway in their hottest snaggin' looks.
The Song: Tammy Wynette's classic ballad "Stand by Your Man" was written into the script but didn't suit the strut-demanding scene. Wanda Jackson's growly, lusty "Funnel of Love" was Anders's first suggestion, "and I hadn't even seen the scene yet, but I knew it was going to work perfectly." Best of all, Jackson is an Oklahoma artist: kismet!
"Time After Time" by Samantha Crain (Episode 209, "Offerings")
The Scene: Daniel's mother, Hokti, updates her approved visitor list after a pivotal visit from Willie Jack and gazes at a photo of her late son taped to her cell wall.
The Song: Anders notes that including Oklahoma singer-songwriter Samantha Crain's cover of the Cyndi Lauper classic "Time After Time" was a high priority and an expensive one to license. It also turned out to be a near-cosmic bit of serendipity, as Crain's voice floats over Daniel-centric scenes across two episodes. Her warm, haunting original "Joey" accompanies the Dogs' memorial for Daniel in the series pilot, while she half-croons, half-belts, "If you're lost, you can look / And you will find me, time after time," in the closing moments of season two's penultimate episode. "I'm not sure if Sterlin linked 'Joey' and 'Time After Time' in his mind intentionally for both episodes, but I know it was important enough for him to fight for," says Anders of getting the rights to the latter. Crain's cover holds an especially tender resonance for Paulina Alexis, who plays Willie Jack; she shared in an interview conducted prior to the SAG-AFTRA strike that her cousin left it playing for her loved ones to find after she died by suicide.
"Early Blue" by F.J. McMahon (Episode 302, "Maximus")
The Scene: After watching Maximus leave with a social worker and police officer, Bear tends to his new friend's plants before heading home.
The Song: Another lovely moment of sonic serendipity in an episode that makes a strong case for radical male softness and caretaking, McMahon's introspective lyrics — "From my window / In the morning's light, I try to hide from people / But it's never right, I see my friends at night / And it works out fine" — combine with a conversational, Velvet Underground–inflected vocal to conjure a gentle push-pull between chosen solitude and reaching for community. "It's really beautiful over such an isolated, existential kind of episode," Anders reflects. It's a perfect match with Maximus's self-imposed isolation and tending of his plants — a.k.a. Star People Food — not to mention his quiet mysticism and yearning for lost friends.
"Washita Love Child" by Jesse Ed Davis (Episode 304, "Friday")
The Scene: The episode's closing scene shows the Dogs heading to Sonic for dinner after serving their not-so-onerous punishments at the IHS Clinic.
The Song: Anders's passion for the driving boogie of "Washita Love Child" is as irresistible as its incendiary guitar licks: "If I could have used more Jesse Ed Davis, I would have." Name-checking the Washita River and his Kiowa heritage, the Oklahoma native's semi-autobiographical 1971 song builds to a chorus laced with a full-throated "hi-yaaaah, hey-yaaahh" recognizable from "Stadium Pow Wow." "Not only is his music just amazing, but he was so important to Rock and Roll," Anders says. "He played with John Lennon, Eric Clapton, who is on this song, George Harrison, Bob Dylan. He's the underdog more people need to be aware of." It's also a clever sonic on-ramp to the following episode, which flashes back to a crucial day in the lives of a previous generation of Rez Dogs.
"Angry" by The Rolling Stones (Episode 308, "Send It")
The Scene: Newly renamed Uncle Kenny arrives in his school bus to chauffeur the elder heist to rescue Maximus in time for him to see his dying cousin, Old Man Fixico, one last time.
The Song: Anders had a preview copy of the Rolling Stones' new album Hackney Diamonds and "was completely blown away by how good it was — I couldn't stop listening to it." After playing the album for Harjo, the two decided the catchy guitar crunch and pleading sneer of lead single "Angry" was a perfect fit for "Send It," where "there's tons of trouble going on, and we already had a rock thread throughout it." The Stones aren't from Oklahoma, but their sound grows from that same fertile soil of "roots and country, blues, indie rock — all the scruffiness that's changed the course of rock and roll throughout the years."