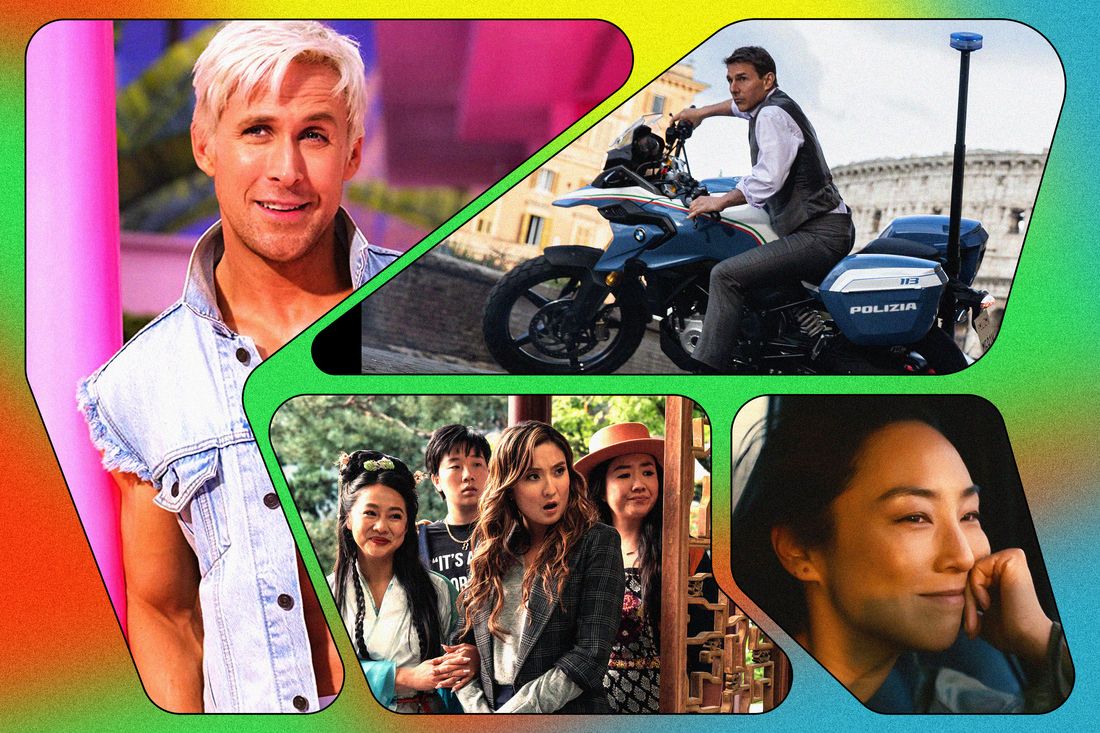 Photo-Illustration: Vulture; Photos: A24, Lionsgate, Paramount Pictures, Warner Bros Pictures
It's T-minus two months until the cinematic smackdown of the year: Barbie vs. Oppenheimer weekend. There'll be blood on the streets and butts in theater seats as Greta girlies throw hands against Nolan bros, but that's not the only coming attraction this summer. We'll see the long-awaited return of R-rated studio comedies, with openings like Strays (think Homeward Bound with more F-bombs), the Jennifer Lawrence-starring No Hard Feelings, and Joy Ride, the directorial debut of Crazy Rich Asians writer Adele Lim. Established auteurs like Wes Anderson (Asteroid City) and Paul Schrader (Master Gardener) will share marquee space with emerging ones like Celine Song, whose stunning debut Past Lives left Sundance swooning in January. And of course, there'll blockbusters galore, from Mission: Impossible Dead Reckoning — Part One to Fast X and Indiana Jones and the Dial of Destiny. And that's just the start.
Paul Schrader's latest returns to the central image of a loner with a past (and a diary) who's looking for absolution. Here, it's Joel Edgerton playing a former neo-Nazi turned informant who has found peace and a new identity while tending the gardens of a lovely estate owned by wealthy, domineering heiress Sigourney Weaver. Needless to say, the past returns in unexpected ways. Schrader's staid, economical, and human treatment of a loaded subject will surely set off some discourse alarm bells, but it further establishes him, at age 76, as one of our most vital filmmakers. (In theaters May 19.) —Bilge Ebiri
Recently, it has become accepted wisdom among critics that Disney live-action remakes represent the nadir of contemporary cinema — exercises in shameless corporate cynicism that replace the bright, colorful, engaging animation of the originals with soulless CGI and the ugliest cinematography known to man, then copy the scripts word for word while somehow making everything twice as long. However, as the success of The Super Mario Bros. Movie has reminded us, the days get very long when you're the parent of a small child, and the hours need to be filled somehow. Anyway, this one stars Halle Bailey and Melissa McCarthy, who I hope had fun on set. (In theaters May 26.) —Nate Jones
Nicole Holofcener's first film in five years reunites the director with her Enough Said star Julia Louis-Dreyfus for a comedic drama about marriage and art. Louis-Dreyfus plays Beth, a writing teacher struggling with the follow-up to her first and only book, a well-reviewed though not particularly successful memoir. ("Maybe if Dad hadn't just been verbally abusive, it would have been a best seller!" she snaps at her mother, played by Jeannie Berlin.) When Beth overhears her devoted husband, Don (Tobias Menzies), confessing to her brother-in-law (Arian Moayed) that he doesn't actually like the new book, Beth spirals into an excavation of creative endeavors and what kind of support we really want from those we love. (In theaters May 26.) —Alison Willmore
Fast X (in theaters May 19), The Night of the 12th (in theaters May 19), Sanctuary (in theaters May 19), Consecration (streaming on Shudder May 19), The Tutor (in theaters May 19), Victim/Suspect (streaming on Netflix May 23), About My Father (in theaters May 26), Influencer (streaming on Shudder May 26), Wild Life (streaming on Disney+ May 26), Kandahar (in theaters May 26), Reality (streaming on HBO Max May 29).
Spider-Man: Into the Spider-Verse was not only one of the great animated films of recent years, but it represented a high-water mark for the superhero-movie revolution in general. Is it possible that lightning can strike twice? The fact that this is one of two sequels being simultaneously produced may give one pause: The first Spider-Verse movie felt like a delightful one-off — not the start of a massive new franchise, which often calls for the kind of tiresome world-building and narrative box-checking that eventually turned the MCU into a slog. Plus, the directors are different this time. But the writer-producers are still Phil Lord and Christopher Miller, the guys behind The LEGO Movie, who clearly have a knack for irreverent humor crossed with exciting action high jinks and who seem to have somehow maintained their artistic independence and soul while continuing to work in the big-studio sandbox. (In theaters June 2.) —B.E.
Playwright Celine Song's Sundance breakout and feature debut is a subtle, hauntingly romantic drama centering on Nora (Greta Lee), a Korean Canadian writer, and the two men who orbit and love her: her childhood sweetheart, Hae Sung (Teo Yoo), and her husband, Arthur (John Magaro). We meet Nora and Hae Sung as they fall into sweet, innocent love as children, but the two later lose touch when Nora emigrates to Canada and then heads to New York City to follow her Pulitzer dreams. Decades pass, adult Nora meets Arthur at a writers' residency, and she marries him. But when Hae Song travels across the world to visit her, unresolved feelings, unasked questions, and regrets start to burble beneath the surface. It's all very Before Sunrise meets Sliding Doors, a bittersweet story about what-ifs and soulmates and Skype. For a debut movie, it's all the more impressive with Song carefully stringing the audience along on delicate beads of sexual tension, emotional truth, and wit. (In theaters June 2.) —Rachel Handler
On the heels of Air, Tetris, and BlackBerry comes Flamin' Hot, which proves there is no corporate origin story too niche to be turned into a feature film. It's the allegedly true story of how a janitor named Richard Montañez (Jesse Garcia) pitched Frito-Lay on the idea of Flamin' Hot Cheetos, a huge development for red-food-coloring enthusiasts that also marked the moment the food giant woke up to the commercial potential of its Latin American audience. (According to the L.A. Times, other Frito-Lay employees have a better claim to the product's origin than Montañez does.) The first feature directed by Eva Longoria, Flamin' Hot won the Audience Award at SXSW, suggesting that, like its namesake, this rags-to-riches tale may be just the right blend of cheesy and spicy. (In theaters June 9.) —N.J.
Pixar has always been able to simplify complex concepts into emotionally resonant fables, and its latest seems to fit into that tradition: It's about the friendship between a fiery young woman made of flame and a "go with the flow" man made of water in a diverse city where people of different elements — fire, water, air, etc. — live together. Director Peter Sohn (who also made the underrated The Good Dinosaur) has said it's a personal story inspired by his childhood as an immigrant in New York City. If the film can properly mix a compelling story and interesting characters with its grander themes, there's no reason not to expect something special. (In theaters June 16.) —B.E.
Having basked in nostalgia for the golden age of magazines in his last film, The French Dispatch, Wes Anderson turns to astrological romance with Asteroid City, which is centered on a 1955 Junior Stargazer–Space Cadet convention taking place in a desert town. The ensemble cast is more sprawling than usual and will feature Hong Chau, Tom Hanks, and Margot Robbie in their first Anderson roles as well as returning collaborators such as Adrien Brody, Bryan Cranston, Willem Dafoe, Jeff Goldblum, Scarlett Johansson, Edward Norton, Tony Revolori, Jason Schwartzman, Tilda Swinton, and Jeffrey Wright. Notably not returning is regular Bill Murray, who reportedly dropped out because of COVID, news that broke a few months after production on another film was suspended as a result of complaints made against the actor for inappropriate behavior on set. (In theaters June 16.) —A.W.
The first time I blogged about The Flash for Vulture, I was 27 years old. By the time it actually comes out, I will be 36. (In theaters June 23.) —N.J.
After more than a decade toggling between Hunger Games and X-Men franchise installments, amid a mixed bag of prestige projects (David O. Russell's Joy and Causeway, Adam McKay's Don't Look Up), Jennifer Lawrence ditches drama for R-rated raunch-comedy. In No Hard Feelings — which was reportedly inspired by a Craigslist ad — the Oscar-nominee plays a clumsy sexpot all too willingly conscripted by the parents of an uptight teenage nerd (Andrew Barth Feldman) to "date" the virginal lad, effectively seducing him into social normalcy before he enters college. (In theaters June 23.) —Chris Lee
It should be thrilling enough that Harrison Ford is returning as Indiana Jones, but believe it or not, one of the main reasons to be excited about this movie is its director. No, it's not the great Steven Spielberg, who helmed all four previous Indy entries. Instead, it's James Mangold, who has been on a tear for the past decade, having directed The Wolverine, Logan, and Ford v Ferrari, and who seems likely to bring an edge to this material that the previous entry, Indiana Jones and the Kingdom of the Crystal Skull, notably lacked. Also, check out that cast: Phoebe Waller-Bridge! Thomas Kretschmann! Mads! Banderas! (In theaters June 30.) —B.E.
After Sherman (in theaters June 2), Shooting Stars (streaming on Peacock June 2), Brooklyn 45 (streaming on Shudder June 9), The Angry Black Girl and Her Monster (in theaters and on VOD June 9), Blue Jean (in theaters June 9), Transformers: Rise of the Beasts (in theaters June 9), The Blackening (in theaters June 16), Maggie Moore (in theaters and on VOD June 16), Extraction 2 (streaming on Netflix June 16), The Perfect Find (streaming on Netflix June 23), Quicksand (streaming on Shudder June 23), Ruby Gillman, Human Kraken (in theaters June 23), Harold and the Purple Crayon (in theaters June 30), and Nimona (streaming on Netflix June 30).
Crazy Rich Asians screenwriter Adele Lim makes her directorial debut with a rowdy comedy starring Ashley Park, Sherry Cola, Stephanie Hsu, and Sabrina Wu as a quartet of Americans who get involved in some raucous high jinks while traveling through China in search of Audrey's (Park) birth mother. R-rated comedies, and studio comedies in general, have been near-extinct in theaters of late, but Joy Ride is one of a few that will test out that market's return. If the reaction from SXSW, where the film went over like gangbusters, is any indication, this one will be lots of fun to see on the big screen with a crowd. (In theaters July 7.) —A.W.
Hot off his Top Gun: Maverick return to the top of the Hollywood heap, Tom Cruise reprises his role as superspy Ethan Hunt in this seventh edition of Paramount's multibillion-dollar-grossing M:I series. Director Christopher McQuarrie has described Part One as an "installment that swallows the rest of the franchise whole," though plot details remain under wraps. (Part Two drops in June 2024.) But expect at least one scene featuring Cruise's Impossible Missions agent flying a motorcycle off a cliff, a Lawrence of Arabia–esque horseback battle sequence, and a car chase through the narrow streets of Italy in a canary-yellow Fiat 500. (In theaters July 14.) —C.L.
Finally, a film for the erstwhile theater kids who have seen both Waiting for Guffman and Anne Hathaway hosting the Oscars. Theater Camp is a pitch-perfect, warmly funny mockumentary about a group of campers and counselors who must save their beloved performing-arts camp from financial ruin after its longtime director (Amy Sedaris) falls into a coma, leaving her crypto-bro son (Jimmy Tatro) in charge. The whole thing is an absolute delight, full of rapid-fire in-jokes, loving takedowns, and impressively weird improv. Even the credits are indicative of the movie's meta, thespian-team-spirit energy: It's directed by Molly Gordon and Nick Lieberman; co-written by Gordon, Lieberman, Ben Platt, and Noah Galvin; and co-stars Gordon, Platt, and Galvin, all of whom have been friends and acting in plays together since childhood. (In theaters July 14.) —R.H.
On the one hand, Barbie is a movie about a doll — one that has for decades represented the conflicting ideals facing its target audience: girls. On the other hand, Barbie is directed by Greta Gerwig, one of the most gifted filmmakers working today and someone adept at delving into womanhood and gendered expectations. Barbie, which stars Margot Robbie as the eponymous character and Ryan Gosling as her trusty love interest, Ken, remains the biggest question mark on the 2023 calendar. But given all the talent involved in front of and behind the camera, it's at least going to be interesting. (In theaters July 21.) —A.W.
Irish Peaky Blinders actor Cillian Murphy stars as J. Robert Oppenheimer, a.k.a. the "father of the atomic bomb," in this prestige biopic from writer-director Christopher Nolan. Based on the Pulitzer Prize–winning biography American Prometheus (and featuring a supporting cast that includes Florence Pugh, Robert Downey Jr., Emily Blunt, and Matt Damon), the film follows the brilliant but conflicted theoretical physicist who headed the Manhattan Project, responsible for producing the world's first nuclear weapons that effectively ended World War II. (In theaters July 21.) —C.L.
Insidious 5 (in theaters July 7), The Out-Laws (streaming on Netflix July 7), Biosphere (in theaters July 7), Bird Box Barcelona (streaming on Netflix July 14), The Deepest Breath (streaming on Netflix July 19), Cobweb (in theaters July 21), They Cloned Tyrone (streaming on Netflix July 21), Stephen Curry: Underrated (in theaters and streaming on Apple TV+ July 21), Talk to Me (in theaters July 28), Sympathy for the Devil (in theaters and on VOD July 28), and War Pony (in theaters July 28).
To hear Seth Rogen tell it, Paramount's animated TMNT reboot first took form around a hypothetical: "What if we cast actual teenagers," the writer-producer said at CinemaCon, "and capture their insane teenage energy?" Following a quintet of live-action adaptations dating back to the '90s, this film finds the hard-shelled, karate-kicking brothers facing off against a criminal army of mutant adversaries voiced by the likes of Rogen, Ice Cube, and John Cena (Jackie Chan, Maya Rudolph, and Post Malone round out the recording-booth cast). Directed by The Mitchells vs. the Machines filmmaker Jeff Rowe with a mix of 2-D and 3-D animation techniques, it should have a street-art, comic-book vibe along the lines of 2018's Spider-Man: Into the Spider-Verse. (In theaters August 4.) —C.L.
German actor Franz Rogowski (Transit, Great Freedom) exudes chaotic sexual energy, making him eminently suitable to play a charismatic narcissist who toggles between a husband (Ben Whishaw) and a girlfriend (Adèle Exarchopoulos) while doing right by neither. Passages is the latest film from Ira Sachs, who has delved into dysfunctional relationships in the past and here has apparently found a great leading man. It takes real talent to portray a toxic disaster who's nevertheless capable of pulling in people who should really know better. (In theaters August 4.) —A.W.
Before turning to franchise fare and more mainstream action vehicles, Jason Statham made his name starring in surreal genre films with elaborate kills and ridiculous premises. He doesn't really make Crank or Transporter movies anymore, but The Meg, the 2018 monster movie about a rampaging, comically enormous prehistoric shark, captures some of that same gonzo spirit. Based on the trailers, this sequel seems even more unhinged. Could be a perfect August movie. (In theaters August 4.) —B.E.
The dearth of theatrical comedy releases predates the pandemic, but the past several years have really seen a chasm in the movie calendar where once laughter reigned. Universal apparently has a lot of confidence in this talking-animal movie about a once-devoted dog who sets out with a little help from his newfound stray friends to find his asshole owner and bite off his dick. The mix of a family-friendly format with an absurdly raunchy premise certainly paid off for Sausage Party, so there's some cause for optimism here. Plus, the director, Josh Greenbaum, gave us Barb and Star Go to Vista del Mar. (In theaters August 18.) —B.E.
What Comes Around (in theaters and on VOD August 4), Shortcomings (in theaters August 4), Gran Turismo (in theaters August 11), Heart of Stone (streaming on Netflix August 11), The Haunted Mansion (in theaters August 11), Elevator Game (streaming on Shudder August 11), The Last Voyage of the Demeter (in theaters August 11), The Monkey King (streaming on Netflix August 18), Blue Beetle (in theaters August 18), Birth/Rebirth (in theaters August 18), White Bird (in theaters August 25), They Listen (in theaters August 25), Golda (in theaters August 25), Bad Things (streaming on Shudder August 25), The Dive (in theaters and on VOD August 25).