At first glance, Kyiv looks and feels relatively normal. One year on from the full-scale Russian invasion of Ukraine, the streets, bars and restaurants once again bustle with people going about their lives. Look a little closer however, and it becomes clear how completely transformative and tragic the war has been. Bombed-out Russian tanks, missile ravaged skyscrapers, checkpoints, sandbags and tank-traps all scar the city. Life plays out to the daily wailing drone of the air raid sirens, bouncing off buildings. Worse is the constant fear for loved ones fighting further east on the frontline. People dread their phones pinging with more bad news.
It is hard to imagine living in such circumstances but for many, solace has been found in music. Despite the war – in fact, because of it – Ukraine's cultural scene is fizzing with artists who have turned to music for comfort and resolve in the darkest of moments. They are using music to steel their souls, assert their identity and inspire opposition to the invasion. At a time of unimaginable fear and suffering, the musicians of Ukraine have decided that playing and listening to music is an act of resistance. Six of them – from orchestras to punk bands and radio broadcasters – tell their stories.
'This is our cultural front. We are fighting here'
When the war started in February 2022, Lysenko Column Hall, the palatial home of the National Philharmonic of Ukraine, was turned into a barracks. "We had an explosion under this bridge," says head of marketing Taras Ostapenko, pointing just beyond the building. "One rocket came and parts of the windows from the offices were broken." As the imminent threat of Kyiv falling subsided, the orchestra resumed its concerts, first streaming online, then in person. Tickets are limited to 160 people – the capacity of their bomb shelter.
Despite some of the orchestra's staff joining the army, musicians escaping to Europe and endless air raid sirens disrupting rehearsals and performances, the orchestra has managed to stage concerts with impressive consistency. "I think people are looking for an exit from this," Ostapenko says when asked why they continue to perform in such difficult circumstances. "And they find somewhere to go to forget about war. Many of them feel they need it for medicine, to cure their spirit."
"There are different forms of defiance and resistance," adds orchestra manager Larysa Parkhomyuk. "For us, for Philharmonic people, it is a way to go on with life … This is our cultural front. We are fighting here."
'We want to make a new image of Ukrainian culture based on our history and our heritage'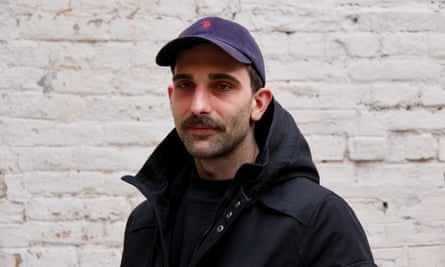 Hidden away in a building near the Dnipro River, you hear Gasoline Radio before you see it. A thumping drum beat thrums through its walls and fills the shabby courtyard out front. Launched by Oleksii Makarenko just two days before the invasion, the station has a clear mission. "We want to make a new image of Ukrainian culture, but it should be based on our history and our heritage," he says. The station platforms an eclectic mix of genres ranging from traditional Ukrainian folk and classical to electronic, ambient, avant-garde and experimental music.
"For now, music is a weapon," argues Makarenko. He mentions the eastern provinces of the country, which have traditionally been heavily influenced by Russian culture and language. "It's super important for different territories of Ukraine – Donbas, Luhansk, Kharkiv – because until now a lot of people didn't understand that they are living in Ukraine. So now we are trying to find songs from these regions to show that they are historically Ukrainian territories."
The station is even launching musical "expeditions" where they travel to a specific region to gather information from locals about traditional folk music that can then be used to assert Ukrainian cultural independence. "If you learn the music, the folklore, you will see the difference between us and Russia. In that way, it is a real weapon."
'We absolutely believe that after victory we will make the greatest shows of our lives'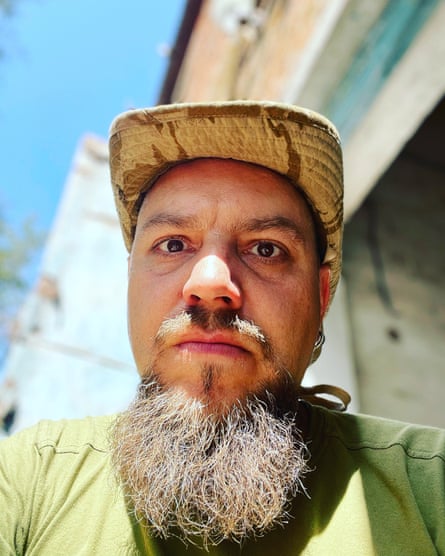 Andriy Zholob of the punk band Beton is also a military surgeon. Speaking on the phone from the frontline he explains how, despite the chaos and tragedy around him, he continues to make music. "When I went to the army, I brought my acoustic guitar to the front. I practise every day, I create new songs. I record them on my phone camera and I send it to my boys" – Bohdan Hrynko and Oleg Hula – "from the band."
For Zholob the creation of punk music is not separate from the war effort, but part of it. He's received letters from soldiers saying they listen to his songs on their way into battle. "It brought me to tears," he says. "My friends who are near me in the trenches, they are playing our music in their cars when they are going to positions. It's a very powerful thing for me – that we played some music that helps guys who are walking nearly to their death. It gives them some powerful feelings."
He compares it to medieval soldiers marching to war with horns: "Punk rock is battle music." They're awaiting victory, he explains. "Because we absolutely believe that after victory we will make the greatest shows of our lives."
'Everyone was like, 'what to do? Let's meet in the club and figure out what to do next'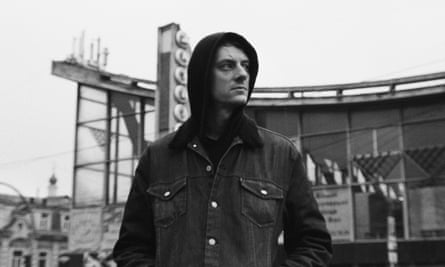 At the start of the war, when missiles were raining down on Kyiv and Russian tanks drew ever closer, a small group of locals took refuge in K41, one of the city's most famous nightclubs. "The club is located in an old beer factory," says DJ Taras Clasps. "It has super thick walls, so even a direct hit of the missile wouldn't hurt the building itself. Everyone was like, 'What to do? Let's meet in the club and figure out what to do next.'" They turned the space into "a proper place to stay and feel safe", creating a mini community with 100 people: at first the club's staff, then musicians, their friends, families, even their pets, all sleeping and eating where they once danced.
After a short creative hiatus brought about by the war, Clasps channelled his anger into his music, creating while sheltering. "I couldn't sleep properly, I had my laptop with me so I just opened it and it became a track." The result was the Prodigy-like Peacedove, a satirical assault on the musicians calling for appeasement rather than victory. Like many others Ukrainian musicians, Clasps' output has become more overtly political. "There was a whole wave started of tracks that have this message of 'Fuck off Russia', 'get out of this territory'." The words of President Zelenskiy are also sampled frequently.
In the past, says Clasps, "a lot of my friends produced music for dancefloors. It had no message except have a good time, listen to the beat, that's it." Now, he says, their music is irrevocably "connected to the situation". As the imminent threat of Kyiv falling diminished, people moved out of the club, transforming it back into a hub for electronic music, albeit with a few changes. While they still party, now the profits go to buy cars for army brigades.
'I've realised that our music can really support people in Kharkiv who feel scared and lonely'
Bomb shelters are strange places, at once terrifying and boring. But Vera Lytovchenko, a violin teacher in Kharkiv, realised that live music could bring comfort to people huddled underground. "In the first weeks of the war we weren't sure we would survive. We hid in basements, bomb shelters and underground stations. I was sure that I would never be able to play the violin again. I regretted that my profession was so useless." That all changed when she saw a video of one of her students playing for her neighbours. "They listened and became less scared and lonely. I realised that it was also a way to fight and help people."
She was inspired to pick up her violin again, first in shelters, then in centres for displaced people and hospitals for civilians and soldiers. "Our music can really support people in Kharkiv who feel scared and lonely." Videos of her playing went viral and she was flooded with messages from around the world, which led to her raising funds for those affected by the war. "Together with other people who continue their normal life, we show them [Russia] and the whole world that [we aren't] scared. We are determined to fight for our lives and our culture, still remaining human."
'Every day I feel like I must do something for the culture. To keep the fire burning'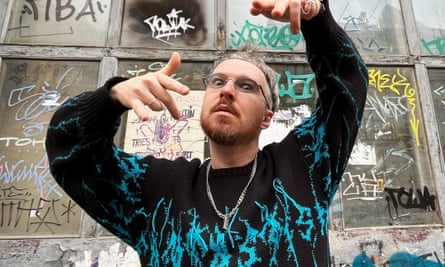 Most people think of electronic music as just something to dance to. So did Volodymyr Baranovskyi, the Kyiv-based DJ and founder of the label Mystictrax, until the onset of Russia's full-scale invasion of Ukraine last year changed that. "I chose the cultural war," he says. "Every day I feel like I must do something for the culture. To keep the fire burning." Despite several of the musicians on his label leaving for the army, he joined forces with another of the city's underground labels, Standard Deviation, to release a 65-track compilation of electronic music to raise money for defence initiatives.
The war has changed electronic music, says Baranovskyi – including his own, which he releases under the stage name Lostlojic: "I'm starting to look inside the country's music." By using more samples with traditional instruments, he can "bring some deep roots and culture into electronic music" in the face of Russian cultural influence. Club nights have become day raves due to Kyiv's curfew but they continue to happen every weekend across Ukraine. "Hopefully Russia doesn't target the parties," he says.